Launch of the Real Life Options Memorial Learning Fund
Monday 24 May, 2021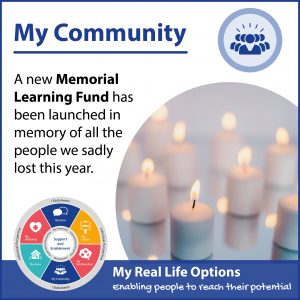 This last year has been an incredibly challenging time for everyone across the Real Life Options Group. Throughout the pandemic, we consistently witnessed staff going well beyond the extra mile to support vulnerable individuals.
In 2020/21 we sadly lost a number of the people we support and colleagues, some to COVID-19 and others to other illnesses. They will all be missed by so many.
Through the new Real Life Options Memorial Learning Fund which has been launched in memory of all these wonderful people, their legacy can live on.
All staff members will now have the chance every year to apply for a fully funded learning opportunity at diploma or degree level in social care and associated fields. A range of possible courses is outlined in the application form below – but this isn't an exhaustive list so please do feel free to put forward your own ideas. This fund is available to both operational and business support staff.
The application process couldn't be easier – simply complete the short application form below and return to Rachel Matthews, Group Head of HR by email on rachel.matthews@reallifeoptions.org. A word document version is availabe on Real Talk or can be requested from Rachel.
The deadline for applications is Friday 18th June, after which an independent panel will assess the entries and successful applicants will be informed shortly after.
"I believe this Memorial Learning Fund will be a fitting tribute to those who have sadly passed away," said David Sargent, Chief Executive of the Real Life Options Group. "All of our staff have demonstrated huge resilience this last year, making personal sacrifices in the midst of grief and pain. By funding new learning opportunities in this way we will be reinvesting into social care and contributing to the development of talented people to continue building a legacy of excellent care."
This year the Real Life Options Memorial Learning Fund honours the memory of those who we have said goodbye to since March 2020.
Gone but not forgotten. Rest in peace.
Real Life Options Memorial Learning Fund Application