Swadlincote Supported Living Scheme welcomes first tenant
Thursday 22 December, 2022
Monday 21st November was a memorable day as we opened our new supported living services in Swadlincote and welcomed our very first tenant, Matt.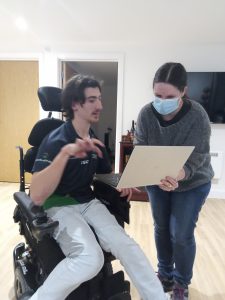 Matt joined us as a guest speaker at our 'Celebration of Success' event, back in July and told us his remarkable story of determination, sharing his incredible achievements and life's mission of 'Can Do.' We are very excited to be part of Matt's new chapter.
Matt was joined by his family as he moved his furniture and personal belongings into his new home. Our new team at our Swadlincote services, and Neil MacKrell (Construction Director at HBV Group) were also there to support the move and be a part of the special day.
Developed by specialist supported living developer HBV Group, in partnership with Inclusion Housing and Derbyshire County Council, the Swadlincote supported living scheme offers modern assistive technology and high quality build standards, matching the needs of the people we support and enabling them to live independently, with greater control over their lives.
The high quality design specification of Matt's spacious apartment accommodates the use of his wheelchair, whilst giving him the freedom to walk and stand unaided, giving Matt a new found independence and enabling him to live a more fulfilling life. Matt has already kitted out his apartment exactly how he wants it, making the space his own with several trips to the shops and a bar stocked up with his drink of choice!
His confidence is growing as he is taking full advantage of his new home and he has been spending time learning new home-based skills and adding to his long list of hobbies! With our specialist support staff at hand and an apartment that supports his active lifestyle, Matt is thoroughly enjoying living his life the way he chooses and is looking forward to welcoming new tenants into the apartments over the next few weeks.
Despite Matt only moving into his apartment a last month, Amanda Leary, (Registered Locality Manager in Derbyshire) says she's "already seen a change in Matt. Matt is enjoying the new opportunities that his new apartment offers him." We are delighted to be a part of Matt's story and can't wait to watch him grow as we continue to support him.