2 Medals for Graham
Thursday 19 October, 2017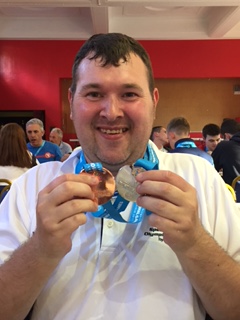 Huge congratulations to Graham from Angus who triumphed in this year's Special Olympics, winning a silver and bronze medal for the Tayside cycling team!
Graham trained every fortnight in the lead up to this spectacular event, putting a huge amount of dedication and commitment into his cycling.
"Graham has worked so hard on his training" said Liz Myles, Service Manager. "He has been cycling along Arbroath seafront when the weather was permitting to do so and all his hard work from the past year has finally paid off."
Graham's cycling has improved both his confidence and his independence, reducing his level of support from 89 to 44 hours a week! Liz Myles further commented how "Graham said he had a fantastic time in Sheffield and would love to take part in the Special Olympics again."
Well done Graham!