A Recipe for Success
Tuesday 23 March, 2021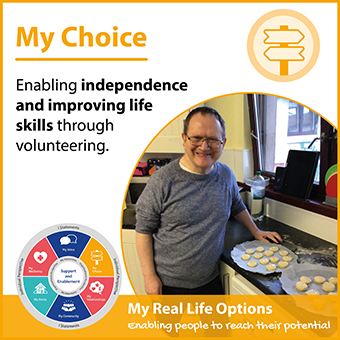 James in Edinburgh is a massive Scooby-Doo fan. He was delighted to discover that a Christmas present video included the recipe for making his very own Scooby Snacks. Gary, who volunteers at James' service twice a week, was more than happy to put his catering skills to good use when James asked for his support.
The day before the baking session, James, with support from his staff team, shopped for the ingredients. Gary and James worked side by side so that Gary could show and James could learn. Gary talked through the process whilst making the snacks whilst James watched and copied the baking process using his own utensils and ingredients. Once the delicious snacks were out of the oven and cool enough to eat, James very generously shared his tasty treats with his housemates.
Since Gary has been volunteering at the service, James's cooking and baking skills have greatly improved. He loves choosing what to bake and enjoys greater independence by shopping for his own ingredients and making his own food.
"Gary has made a real difference to the service and is a valued member of the team. Everyone enjoys his visits and he has certainly helped develop James's life skills." Keith Anderson, Service Manager.
If you would like to know more about becoming a Real Life Volunteer, visit the 'Get Involved' section of our website or email reallifevolunteers@reallifeoptions.org.