A Thank You Message on World Health Day
Monday 6 April, 2020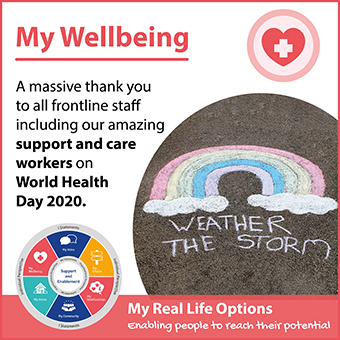 April 7th marks the anniversary of leading global health authority, the World Health Organisation (WHO). Each year, World Health Day is held on the same date and focuses on key issues or the people who have a vital role in keeping the world healthy. This year, WHO honours the contribution of nurses and other health workers who are at the frontlines of COVID-19 response, putting their own health at risk to protect the broader community. To coincide with this deserved recognition, Chair David Wilkin is keen to share his praise and thanks to the Real Life Options, 1st Homecare and Montana Home Care staff on behalf of the Board of Trustees.
"I'm astounded how well the organisation has responded to the pandemic. In recent years, there has been a steady investment in technology which has facilitated the smooth transition to remote working in addition to keeping staff connected and up-to-date via the Real Talk app.
"Our front line staff are doing an amazing job by staying positive and continuing to provide the very best support possible. They are adhering to the government's guidelines on social distancing and the use of PPE whilst enabling the people they support to keep themselves safe too. I've been a Trustee for some years and I am really not surprised how supportive and encouraging everyone across the organisation is being to one another.
"On behalf of the Board, I would like to commend and applaud everyone for their dedication and professionalism in these unprecedented times. Your continued commitment, determination and the substantial efforts you make to continue supporting people in our local communities will not be forgotten. You should be proud, very proud. Thank you."