Always Looking Out For Others
Monday 20 January, 2020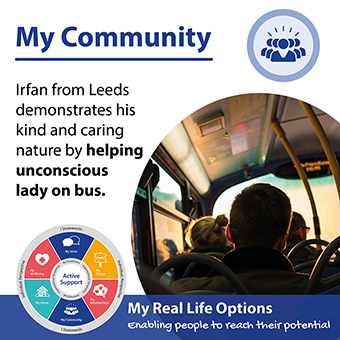 Irfan from Leeds, recently had the opportunity to put his caring nature into practice during a dramatic experience on the bus.
During a bus journey to York, Irfan was seated behind two elderly ladies and when the bus arrived at York train station he was one of the first to notice that one of the ladies had fallen unconscious. After being alerted about the incident everyone was told to get off the bus to make way for the paramedics who had been called.
Irfan was the last person off the bus and when he passed the unconscious lady, he stopped and looked at her in concern. After making eye contact with his Support Worker, Shadreck Sibanda, and the bus crew, Irfan did a caring vocalisation noise and shook his head. He then went back behind the lady and thoughtfully opened the window next to her. The fresh air came into the bus, which helped the lady to quickly regain consciousness. Even though she was weak and still feeling faint, she did manage to smile and nod at Irfan as he left the bus as the ambulance arrived.
"I'm really proud of Irfan remaining so calm and collected during the incident," said Anne-Marie Steyn, Team Coordinator. "He's a very kind and compassionate man so I'm not surprised that he found a thoughtful way to help out the lady in distress."