And the winner is….
Friday 22 June, 2018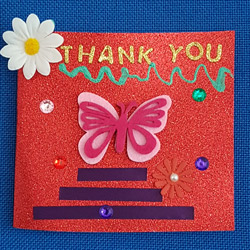 Congratulations to Yvonne from Glasgow, whose sparkly, colourful and summery creation received the most votes to become the winning entry of our Thank You Card competition.
Yvonne's submission will be reproduced and used by Real Life Options to say thank you to staff members, our champions and the people we support in recognition of milestone events, their service and generosity.
If you have any ideas for future competitons for the people we support, please do get in touch with the editor of Real News!