Anjum's Visit Is Right On Cue
Thursday 20 February, 2020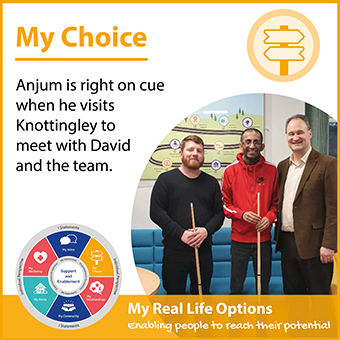 Real Life Options business support staff in Knottingley were delighted when Anjum from Newcastle recently paid a visit to meet with them and CEO David Sargent. Anjum, who was one of the interview panel members for David's appointment, was keen to find out how David is getting on in his role and to try out the pool table that has been installed for visitors to enjoy. A big fan of pool, Anjum enjoyed several matches with support worker Raymond, David and finance guru Frank with some winning results.
Anjum, who has experience of working in a café, was thrilled to hear about plans for developing the former finance offices into a space where people can develop skills for independent living. He looks forward to coming along when the facility is open and trying out some of the tasty food on offer.
When Anjum isn't keeping an eye on David and the team in Knottingley, he enjoys getting involved in his local community.  Together with other individuals, family members and support staff, Anjum is taking part in this year's Glow Memory Walk in support of the Alzheimer's Society on the 14th March.  If you would like to support Anjum and the team, simply follow the link to their Just Giving donation page set up by Service Manager Katie Murphy.