Announcing the Easter Competition Results
Thursday 14 May, 2020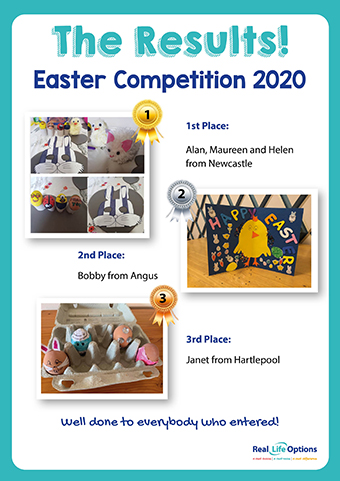 A massive thank you to all the people we support across the UK who sent a submission for our national Easter Competition. We asked people to share their best Easter artwork (painting, drawing, craft, montage or colouring in) and have been very impressed by the entries received.
The standard this year was extremely high and with almost 60 submissions to choose from, we enlisted the support of our 2000 strong workforce to assist with the judging process. The votes have been counted and we are delighted to announce the results.
Many congratulations to Alan, Maureen and Helen from Newcastle who joined forces to create a selection of Easter crafts, winning first place and a £50 prize.
A deserving second place is awarded to Bobby from Angus for his cheerful Easter chick card who wins £25 for his efforts.
Third place goes to Janet from Hartlepool for her beautifully decorated eggs in a box, earning her a £10 prize. Well done!
If you entered our competition, a certificate of participation will be heading your way shortly to say thank you.
If you are a person supported by Real Life Options and haven't yet entered our next competition, there's still time as the closing date isn't until 31st May. All you need to do is tell us about your Staying at Home stories and you could be in with a chance of winning a £50 prize.  Click on this link to find out more.