Annual Real Heroes Awards 2020
Monday 14 December, 2020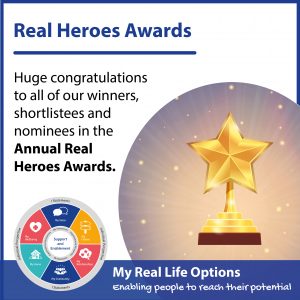 Huge congratulations to all the winners, shortlistees and nominees in our Annual Real Heroes Awards 2020.
This year we decided to embrace the current COVID-19 travel restrictions as an opportunity to involve more people from across the Group in ways that previously would not have been possible. Therefore, a huge number of people we support joined us as presenters for the internal Real Heroes Awards virtual ceremony which was broadcast live last Thursday 10th December to all employees and services.
The Annual Real Heroes Awards recognise and reward outstanding individuals across the organisation – both staff and the people we support. This annual event differs from the standard Real Heroes Awards in that there are specific categories of excellence for both staff and the people we support, which is a special opportunity to reward people's achievements and contributions.
We have been flooded with positive feedback from people we support who were winners or presenters in the event, with reports that being involved gave them "a great confidence boost," they were "thrilled and very excited" to be a part of the ceremony and that staff were "incredibly proud" of their achievements.
Ruth from Leeds said she "felt like she was on the Hollywood red carpet receiving an award," with her Support Worker, Helen Swift, adding, "It felt like that to us as well when we were filming, she really did look lovely and so happy."
David Sargent, Chief Executive said, "We know every single one of us has gone above and beyond in 2020. But the Real Heroes Awards recognise those people who have been truly outstanding. Those amongst us who have achieved something exceptional and really embraced our values – both staff and the people we support. It has been incredibly moving to read through all the nominations and it's been really heart-warming to hear about all the great things that have been going on across the Group."
Click here to download the Real Heroes Awards PDF Overview which outlines the winners for each category and shares their inspiring stories.