Annual Review 16-17 Now Available
Monday 9 October, 2017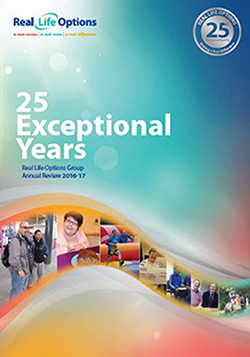 We are proud to share our latest Annual Review '25 Exceptional Years' for the last financial year 2016-17.
Looking back on the previous year always provides a good opportunity to celebrate the inspirational people we support as they continue to make independent life choices and journey towards achieving their aspirations and dreams.
2016-17 represented another year of significant progress for the Group. We have continued to build a robust platform upon which to grow future services, whilst securing and delivering new contracted services. From this position of stability we will continue to build upon our reputation for excellence and innovation.
This year's 25th anniversary celebrations for Real Life Options have enabled us to reflect on our founding vision, purpose and values and take steps to better embed these within all that we do.
Thank you to each of our staff members, partners, supporters and advocates for achieving such great results over the year.
Check out the Annual Review flipbook below or click here to download the file.
To request a hard copy of the review please email info@reallifeoptions.org