Annual Review 2018-19 Now Available
Wednesday 6 November, 2019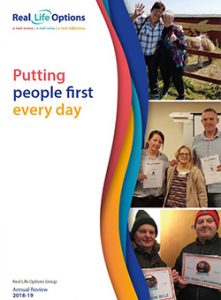 We are delighted to share our latest Annual Review 2018-19 'Putting People First Every Day' which provides a summary of some of the amazing achievements of the people we support, organisational updates and our financial performance.
2018-19 represented a year of transformational change in order to create innovative services for the benefit of the people we support and further enhance our delivery of excellent support and care. In addition to a number of our Support Workers being recognised at the National Learning Disability Awards, a wide range of inspirational stories are included from people we support from across the UK.
This past year also heralded our first annual conferences to connect operational teams with the business support functions, the creation of the Employee Support Centre to help facilitate the recruitment of new staff and the launch of Real Talk, an exciting new app-based channel to help facilitate internal communication across the organisation.
"People are at the cornerstone of everything we do at Real Life Options," said David Sargent, Chief Executive. "At the centre of the organisation are the people we support and our staff who provide excellent care. Over this last year we have been able to build on foundations which enable us to create new models of service and to improve our existing delivery. We are very confident about the future and look forward to exploring many opportunities for growth and development."
Thank you to each of our staff, partners, supporters and advocates for helping the Real Life Options Group to achieve excellence over the year.
Check out the Annual Review 2018-19 flipbook below or click here to download the PDF file.
To request a hard copy please contact Samantha Goodwin, Marketing and Communications Manager by email on samantha.goodwin@reallifeoptions.org