Art and Crafts Competition
Wednesday 31 January, 2018
It's time to get creative!
We'd love for the people we support to share their best craft skills including painting, drawing, card making, montages, origami, jewellery making, sewing, embroidery, crochet, knitting and much more!
Send a photo of your entry to Sam Goodwin on Samantha.goodwin@reallifeoptions.org or by post to Real Life Options, David Wandless House, A1 Business Park,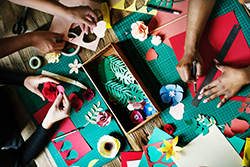 Knottingley, WF11 0BU by Friday 16th March 2018 to be in with a chance of winning £50!
Make sure you include your name and contact details so we can get in touch if you win.
The competition is open to all the people we support and we will be announcing the winner Thursday 12th April 2018.
Good Luck!