Art Competition Results
Wednesday 19 February, 2020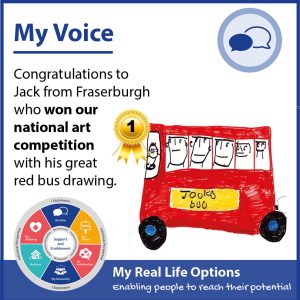 Huge congratulations to Jack from Fraserburgh who won our national art competition with his jolly red bus picture. A well-deserved win!
Clearly there are a lot of budding artists in Scotland as second place went to Shonagh and third place went to Stephen, both of whom are also from Fraserburgh. Everybody loved Shonagh's beautiful white bunny picture and Stephen's exquisite blue dragon picture.
Well done to all the people we support who entered the competition. There was an incredible amount of artistic talent on display and it has been great to hear of people who are now enjoying new hobbies, such as painting, as a result of getting involved in the competition.
View all three pictures by clicking here to download the Competition Results PDF.