Ascend Graduation – Class of 2020
Monday 1 February, 2021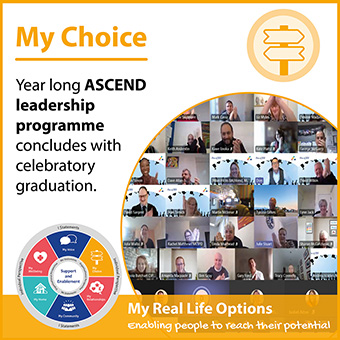 Over 40 leaders across the Real Life Option's Group recently marked the conclusion of a year-long development programme with an online celebratory graduation ceremony. The CPD accredited ASCEND course has been uniquely created to develop skills that enable and empower individuals across the organisation to lead teams effectively in providing excellent social support.
Graduates shared reflections on what they have learnt and how they have applied their new-found knowledge within their work environment. Directors of Operations for England and Scotland praised participants for their commitment to the programme and acknowledged how it has, without doubt, contributed to exemplar leadership particularly during the COVID-19 pandemic.
Peer of the Year was jointly awarded to Mark Cassy – IT Operations Manager and Susan Griffiths – Support and Enablement Partner with Outstanding Achievement Award going to Julie Stuart – Service Manager of 1st Homecare Dumfries. The announcement was accompanied by the loud applause of colleagues and friends.
Chair David Wilkin and Chief Executive David Sargent reaffirmed support of the ASCEND programme and the Board's ongoing commitment to investing in staff development with an announcement that the next cohort commence their ASCEND journey in February.
Head of Talent Development Jill Hicks who was instrumental in bringing the ASCEND programme to life, thanked participants for their attendance and partners On Track Learning for their contribution in delivering the course content. "It is with genuine heartfelt pride that I am delighted at the success of the programme and the part it plays in being a truly person-centred organisation," concludes Jill.