Naseer's Taekwondo Award – Autism Acceptance Week
Friday 31 March, 2023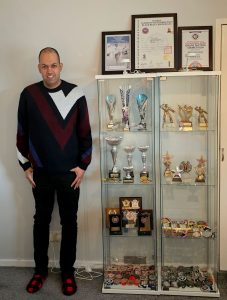 To mark the end of Autism Acceptance Week, we caught up with Nas who spoke to us about his incredible achievement, winning Taekwondo Student of the Year 2022!
Starting his Taekwondo journey in 2004, Nas received the award in recognition of his years of hard work and dedication to the sport, attending weekly classes and competing in countless competitions, representing Scotland, Italy, and Wales to name a few. Nas says that he has had some "tough opponents", and challenges with the COVID-19 pandemic, but his hard work and passion for the sport have enabled him to reach his goals, with Nas saying he was "really excited" to win Student Of The Year.
With the numerous competitions he has lined up, Nas is hoping to add even more awards to his growing collection, and says his "family are excited" for him to "win more medals" in the future. One of Nas's upcoming competitions includes a competition abroad which will see him compete against opponents outside of his federation and will consist of sparring and the destruction of boards.
At Real Life Options, we take time to learn what's important to people and believe everyone should have a variety of choice and control in their lives. We concentrate on people's strengths and capabilities, working with them to help achieve their full potential. Ahead of Nas's upcoming competitions, Real Life Options staff continue to work with Nas to ensure he is prepared, and knows what to expect.
What a fantastic story to bring Autism Acceptance Week to a close. Nas's staff team are all incredibly proud of his achievement, and all of his hard work!