006 'Big Shave' raises over £900 for MS Society
Monday 20 July, 2015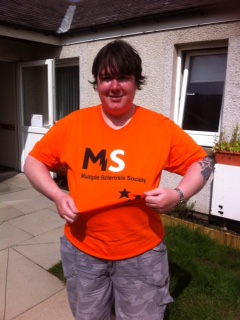 All of Fraserburgh's Service Users helped support a member of their support team –  Senior Support worker Paula Harper-Buchan –  in a recent head shave;  raising over £900 for the Multiple Sclerosis society.
Paula who has worked in the Fraserburgh service for 13 years, has been diagnosed with Multiple Sclerosis herself and wanted to make others aware that "not all disabilities can be easily seen, and that it's important for people not to judge a book by its cover".
Fraserburgh's Service Manager, Debbie O'Neill, was given the great pleasure of shaving Paula's head in front of all the service users and the staff teams.  Debbie has provided Paula with a lot of support over the years and all the more since her diagnosis of Multiple Sclerosis.
It was also good to show staff and service users, that Debbie loves a wee bit of fun too. It is safe to say that Debbie is now able to add another skill to her role as  Service Manager – that of "resident hairdresser." A service user asked Debbie during the head shave if she would "cut his hair next" before he goes on holiday.
The 'big shave' was a great success, with over £900 raised through head shaving and also the sale of crocheted  hats and toys.
Paula said: "the Service Users made the event so special by making pancakes and just being there to support me.  It's good to know that the people we support really care about their staff and that giving support works both ways."