Brilliant Burns Night Supper
Thursday 10 August, 2017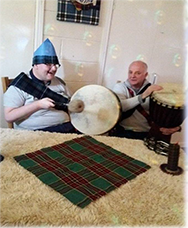 January 25th marked the annual celebration of the great Scotland national poet Robert Burns. The day commemorated the life and poetry or Burns and celebrates his contribution to Scottish culture, including his best known work 'Auld Lang Syne.'
The Real Life Options An Carina Day Centre in West Lothian didn't hesitate to pull out all the stops to arrange a spectacular Burns Night Supper to join in the festivities.
The large hall in the centre was transformed into a restaurant for the day and there was great excitement in creating the atmosphere for the event as staff took great care to set the scene with special music, copies of Burns' poems on display and a generous amount of tartan attire too.
Central to Burns Night celebrations is the sharing of a traditional Scottish meal and there was haggis, neeps and tatties galore, served up by the staff restaurant team, led by Head Chef Margaret Payton-Lammie. Not an easy feat as it was a full house – with 13 people we support and 12 staff attending!
"It was a meal fit for a king," exclaimed Service Manager Martin McInrue. "The whole event was absolutely fantastic, it was a really good day. It's a new venture for the day centre to do something on this scale and it was very encouraging to see all the staff really embrace it and the people we support loved it."
Following the meal, there was an atmospheric music session. Mark in particular showed a great interest in the drumming and leapt at the chance to drum his heart out with Martin to the Mists of Time.
"Mark really loved the drumming, he was really good at it," said Joyce Freeman, Support Worker. "We all had a really great time, everyone was up dancing and really enjoyed it."