Building Confidence Through Volunteering
Wednesday 16 December, 2020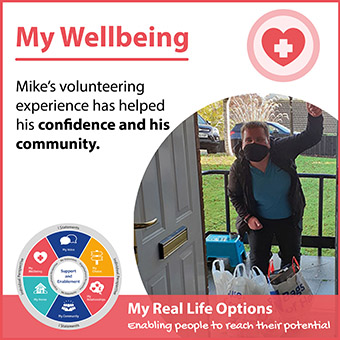 Volunteering has grown from strength to strength this year as community spirit and genuine acts of kindness have touched the lives of many.
A Real Life Options service in Glasgow was delighted when after a discussion with Volunteer Manager Nick McLaughlin, community volunteer and university graduate Mike came forward to help out with essential shopping services on behalf of people who were shielding.
Mike, who is visually impaired, does not drive and used the volunteering opportunity to push the boundaries, proving that a physical impairment is no barrier to what can be achieved. Using public transport together with google maps, Mike enjoyed navigating around the city, which helped build his confidence in his own abilities whilst making a positive difference in his community.
Mike thoroughly enjoyed supporting Real Life Options during the pandemic and continues to volunteer whilst looking for paid employment. He says, "Volunteering has been great for boosting my confidence. The shopping trips allowed me to familiarise myself with new parts of the city."
Described as a lovely gentleman with a great sense of humour, Mike is a great asset and a shining example that anything is possible. Click on this link to hear Mike share his volunteering experience. And if you'd like to know more about volunteering for Real Life Options, email reallifevolunteers@reallifeoptions.org.