Canine Rescue a Resounding Success
Thursday 21 January, 2021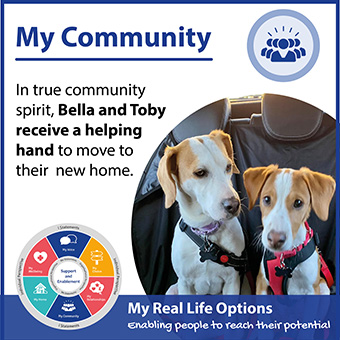 From time to time the best laid plans need a helping hand. Real Life Options was delighted to play a small part recently in the adoption and rehoming of several dogs involving their safe transportation from Spain to the UK.
Last summer, Yorkshire based Paul Moore and Erika Herbaux made arrangements with a rescue centre in Spain for the adoption and rehoming of two Beagle Cross dogs. Whilst regulatory processes such as home checks and vaccinations continued as normal, the looming Brexit transition and a change to the French authority's animal transportation procedures threatened to disrupt their plans. The main hurdle being that a DEFRA registered transporter should have a business account with Eurotunnel or the official sponsorship of a registered UK Charity.
Paul approached Real Life Options after discussing the dilemma with a friend employed by the social support and care charity. After reviewing the situation, Chief Executive Officer David Sargent agreed that Real Life Options would support the endorsement of transportation permits as an official sponsor to ensure that the rescue centre's rehoming operation complied with regulatory requirements.
We are delighted to report that the crossing from Spain went without a hitch and that Bella and Toby have settled into their new home. "I want to express my eternal gratitude in helping us get our two dogs from Spain. We could not have done this without the kindness and charity of others and the support of Real Life Options," comments Paul.
"As a charity with strong community links, we felt it was important to lend a helping hand with Paul and Erika's valiant efforts to rehome Bella and Toby. We are sure that the two dogs will bring a lot of joy and happiness to the family and their local community," adds David.