Celebrating National Volunteers Week 2021
Friday 4 June, 2021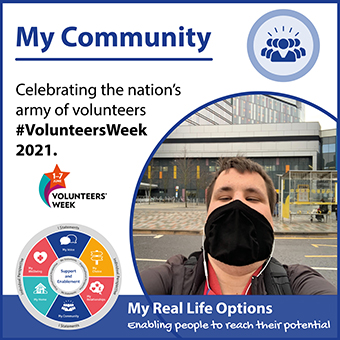 Real Life Options is proud to celebrate National #VolunteersWeek 2021 and recognise the army of volunteers who continue to support the nation throughout the pandemic.
Over the last twelve months, we are pleased to announce that 157 Real Life Volunteers have delivered 2,400 volunteering hours across the UK.
One such volunteer is Mike from Glasgow who has provided essential shopping services whilst people were shielding. More recently, Mike has been dropping off supplies to the city's Queen Elizabeth Hospital for a person we support who is a patient there.
Mike, who is partially sighted is gaining new skills and developing greater independence whilst freeing up staff time to focus on essential support. Whilst volunteering for Real Life Options, Mike was successful in securing a role as one of our relief support staff.
Mike says, "As we face the immediate threat of Coronavirus and the long-run ramifications it will have on the job market, volunteering with Real Life Options gives me the opportunity to address the academic imbalance in my CV by giving me real-life experience."
If you'd like to know more about volunteering for Real Life Options, we would love to hear from you. Check out our volunteering page or email reallifevolunteers@reallifeoptions.org.