Celebrating Success at the AGM
Wednesday 15 February, 2017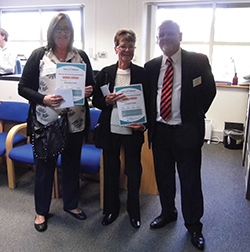 The 24th Annual General Meeting (AGM) and Suppliers Lunch recently attracted a great number of staff from across the organisation, including members of the Board, who had the opportunity to mingle with key suppliers. Chairman David Wilkin delivered the keynote speech, speaking about how pleased the Board are of the exceptional quality of support that our staff provide across three nations, despite the challenging environment in which we are operating. He went on to say how crucial staff are in ensuring that Real Life Options remains true to its values; enabling people to be part of their communities and live the lives they want to lead.
David also commented on the new branding that helps to express the lively and forward facing nature of Real Life Options, in addition to increasing the professionalism of the organisation. "We want everyone, both the people we support and our staff, to realise their full potential," concluded David Wilkin, Chairman. "The Real Life Options message – a real choice, a real voice, a real difference is very significant. This is what we are striving to achieve and thank you to everyone here who is helping to make that vision a reality."
The outstanding national winners of the Real Hero Awardswere also honoured at the event and their inspiring stories were shared and celebrated. Beverley Cave and Margaret Oliver, from the Hartlepool Rossmere Darts Team were on hand to collect their award having won the National Runner Up position (along with Janet Grylls and Sue Linsley) for inviting people we support to join their darts team and going out of their way to make them feel welcome and included.
The National Real Hero Winner George Fidoe was sadly unable to make it to the lunch, but David Wilkin caught up with George at a recent forum to congratulate him in person. George had to retire from Real Life Options due to ill health but missed the people we support so much he came back to relaunch and chair the Fife Service User Forum. Service Manager Kawe Enoka said, "I would like to thank George for his hard work, without his participation the forum would not be the success it is. He truly is an inspiration."