Championing Health Care Rights
Tuesday 9 March, 2021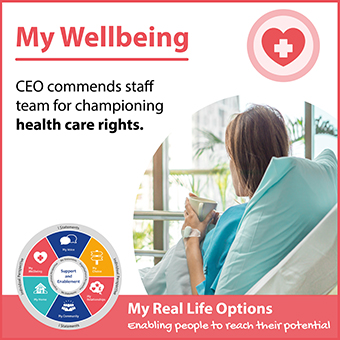 We are immensely proud of our colleagues in Hawick for championing the health care rights of a lady they support.
Fiona began experiencing health issues a few months ago which meant a series of visits and stays in hospital. Despite everyone's best efforts, Fiona's health did not improve. As a result, she was admitted to hospital several weeks ago.
Due to a rare genetic disorder, Fiona struggles with her weight. Whilst it is managed through a structured routine and planned diet, it was difficult for medical staff to apply antibiotics intravenously. Over time, Fiona's health deteriorated. Staff who visited Fiona on a daily basis became aware that a decision had been made by the hospital to apply end of life care based on her disorder and condition.
The staff team challenged this decision with the hospital and contacted Fiona's family to alert them to this potentially life-threatening situation. Under pressure from Fiona's family to find alternative ways to help her, the hospital used ultrasound technology with successful results. Within a short time of receiving antibiotics intravenously, Fiona was more alert and able to sit upright.
We are delighted to report that Fiona responded well to medication. Her health is improving and she was home in time to celebrate her birthday with family and friends.
"I am incredibly proud of our Hawick team for their part in supporting Fiona to have a right to timely and life-saving health care. Without their intervention, the outcome might have been very different." David Sargent, CEO.