CHAS Premium Plus Accreditation 2021
Tuesday 16 March, 2021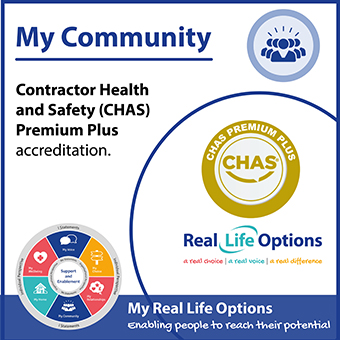 Real Life Options has been a Contractor Health and Safety (CHAS) accredited organisation for more than ten years. We are delighted to announce that for the second year running, we have achieved CHAS Premium Plus certification.
CHAS Premium Plus accreditation places a significant focus on maintaining high standards of health and safety. The Premium Plus accreditation is reserved for those companies who have been able to prove that they take their commitments beyond the basic level. In order to achieve CHAS Premium Plus, we have demonstrated high standards of environmental, quality and social responsibility across our whole operations, not just health and safety.
This accreditation is more than just a certificate on our wall. It is intended to bring peace of mind that we are doing our very best to ensure the safety of all our staff, the people we support, our clients and members of the public.