Children Cheer Up Community Neighbours
Wednesday 21 April, 2021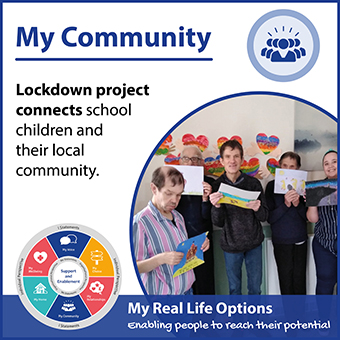 Real Life Options was delighted when St. Bartholomew Primary School in Wolverhampton agreed to a lockdown project that connected school children and members of their local community.
Volunteering Manager Andrew Walker contacted Head Teacher Rachel Kilmister with an idea to brighten up people's lives during lockdown. The school was happy to oblige and before long, students had created hundreds of pictures and messages. These were sent to a number of homes within the local area to help cheer up people who live in supported living environments.
Recipients of the children's work have chosen pieces to hang on their walls and their support staff at deeply touched by the gesture. Team Leader Kate White says, "Thank you to all the children for the effort that has gone into these pictures. They are truly amazing. They have put big smiles on everyone's faces and brightened our day."
When approached by Andrew, the idea struck a chord with Mrs. Kilmister. She felt it would be a fantastic opportunity to enrich the lives of local people and introduce the concept of volunteering and assisting others to her pupils.
Mrs. Kilmister says, "This has been an extremely challenging year for everyone, especially young people and people that need support. Hopefully colourful pictures and letters may bring light and happiness into everyone's hearts in these difficult times. I am extremely proud of our children's enthusiasm for this project and for the hard work they do on a daily basis."