Design an Easter Egg Competition Winners
Tuesday 11 April, 2023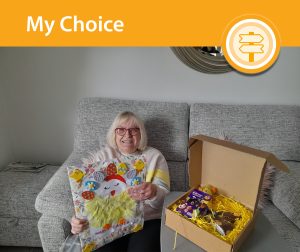 As Easter celebrations come to an end, we are excited to announce the winners of this year's Design an Easter Egg Competition.
A huge thank you to the people we support and children, plus grandchildren of our staff teams who entered the competition and designed their own Easter eggs.
It was fantastic to see all the creative designs from across the UK. All entries were egg-cellent and we were very impressed by the entries received.
A huge congratulations to Janet from Hartlepool (pictured) for winning first place with her cheerful Easter chicken design.
In joint first place for the staff members children/grandchildren category, we have Taneesha and Esmae with their fabulous hand coloured egg designs.
All winners received an Easter chocolate box, full of Easter treats, and everyone who entered the competition will receive a certificate of participation.
Well done to everyone who entered!