Dignity Action Day
Thursday 8 February, 2018
On Thursday 1st February we celebrated Dignity Action Day!
Dignity action day is an annual opportunity for health and social care workers, and members of the public to uphold people's rights and dignity and provide a truly memorable day for people who use care services.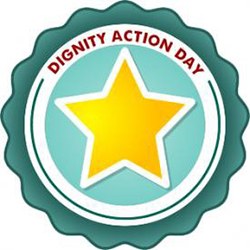 Aligned with the Real Life Options Group vision and values, the Dignity Action Day seeks to ensure people who use care services are treated as individuals and are given choice, control and a sense of purpose in their daily lives.
Activities were focused around the importance of Dignity in care and the 10 Dignity Dos. These aim to demonstrate and raise awareness that everyone in the community has a role to play in upholding dignity and that everyone, including staff, have the right to be treated with dignity and respect too.