Dragon Boat Race to Raise Funds for Cerebral Palsy Scotland
Tuesday 12 September, 2023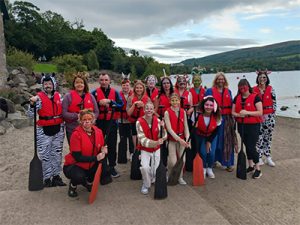 Our Longcroft team took part in Cerebral Palsy Scotland's Dragon Boat Race on 10th September 2023 to raise funds for Cerebral Palsy Scotland. Thanks to a host of fantastic supporters, the team surpassed their initial target of £1,500, raising an impressive £1,567!
To celebrate the 20 year anniversary of the Dragon Boat Race, 10 staff members from Longcroft, as well as family members took to Loch Lomond to race in dragon boats on a 250m stretch of water. Teams had a drummer to keep the 13 rowers in sync, and a helmsman to guide the boat. People we support enjoyed watching the race unfold via FaceTime.
Cerebral Palsy Scotland have worked closely with Real Life Options and a person we support with Cerebral Palsy, equipping the team with knowledge and best practice on how to provide the best support. This support and information has been key in helping the team provide the right level of tailored support. Kelly Edington, Support Worker in Falkirk says, "Real Life Options have had the opportunity to work alongside the Cerebral Palsy team. We have gained so much knowledge and support which we are grateful for. We can use this to ensure we provide the best support and are taking part to give something back to this great service".
It was a busy day for the Longcroft team as they took part in an impressive 3 races! Kelly say's, "Although we did come last, it's the taking part that counts. It was a fantastic event with cracking views". Despite the team coming last in the race, they were excited to come first place for the best fancy dress. Kelly says, "It was a great day and we hope to do it again next year". Well done to the team at Longcroft!