Easter Fun in Fraserburgh
Thursday 16 May, 2019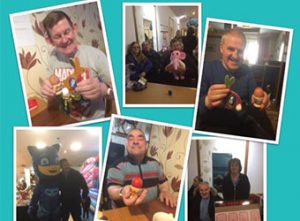 Whilst many of us were busy eating chocolate eggs over the Easter holidays, Gordon, Jack and Alastair enjoyed an Easter crafts night; creatively decorating boiled eggs, egg cups and wooden Easter bunnies.
And on 28th April, Real Life Options staff in Fraserburgh hosted a fundraising family fun day at their local leisure centre. There was plenty there for all ages; tasty food and hot drinks, craft stalls, bouncy castles and lots of games to keep the little ones – and not so little ones – occupied.
A big thank you to everyone that supported the event raising a whopping £830.60 towards Real Life Options' Fraserburgh sensory garden project. We'll be back at the Leisure Centre on 2nd June with our stall at the Annual Vintage Car Rally – one of the highlights in the calendar of the people we support.