EasyRead Guide to Voting and EasyRead Manifestos
Wednesday 11 December, 2019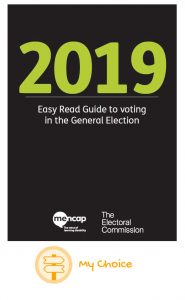 As you will be aware, there is a general election in the UK on 12 December 2019.
Mencap and The Electoral Commission have produced an EasyRead Guide to Voting, which helps explain in an accessible way for people with learning disabilities everything they need to know about voting. This will be really useful for staff who are supporting people to attend the polling stations tomorrow to help them explain what to expect.
You can download this handy guide by clicking on the link below:
Four of the political parties have also produced EasyRead Manifestos which help to give an accessible overview of their policies. You can download these PDFs here:
Please note there are other parties that you can vote for, but unfortunately these did not have an EasyRead manifesto available to share.