Everybody Dance!
Tuesday 28 April, 2015
You may remember in recent web and RealNews features that Steph, a person supported by Real Life Options in Leeds, really loves to dance! When we were looking for speakers for the joint ARC/R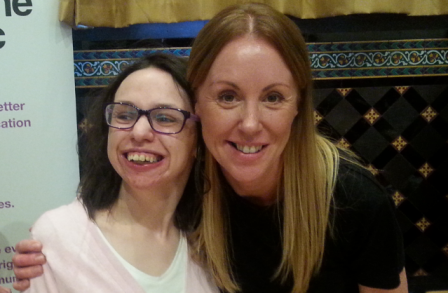 LO conference, Pictures of Cats and other ways to health and wellbeing, Steph jumped at the chance to travel to Chesterfield with her support worker Therese, to speak to delegates about how important music and dancing are in her life and to her general wellbeing.
Steph, who was interviewed by Anthea Sully, was in no way phased by speaking in front of so many people. She showed great microphone technique and excitedly told her audience about the thrill of winning 1st Prize in a dancing competition at TigerTiger Nightclub – where she was dressed as Cat Woman. In the picture (right), Steph is seen showing her recent 'Top Cat' feature in the March/April edition of RealNews.
Steph made it clear just how much she enjoyed going to her local dance class, where she was not only able to practice her routines but it was a great way to keep fit as well. Steph also gave us an insight into the music she likes – sadly, she's lost a little interest in One Direction since Zayn left the group. We share your Zayn pain Steph.
Tracy Connelly, RLO's Divisional Manager in Yorkshire (seen pictured with Steph in the feature image), told us how excited Steph had been about attending the conference, saying: "Steph's been talking about nothing else since she was asked if she'd like to speak at the conference. She was brilliant – I'm thrilled she's had a chance to say a little about what's important to her."
We caught up with Steph after she spoke to the Conference. She said: "it was really good to be here and to meet so many people. I really want to stay, but I have to be back in Leeds for 3 o'clock. I hope I did OK?"
Steph, you did great! The huge round of applause Steph received from her audience was testimony to that.