Exchanging Football Boots for Gardening Tools
Friday 7 August, 2020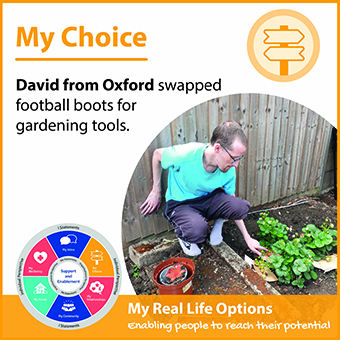 David from Oxford loves being outdoors and when he is not playing football with the Oxford Casuals, he enjoys train spotting, particularly steam locomotives.  Like many people across the UK, David's favourite sport and hobbies were severely restricted during the COVID-19 pandemic.
Following government guidelines to stay at home, David decided to swap football boots for gardening tools and embarked on a garden makeover. Before work began, a plan was formulated with assistance from his Support Worker Julius which included what compost to use, what plants to buy and where to position them within the garden.
Despite not being a lover of strawberries, David was keen to grow strawberry plants and tried the fruit once the berries had ripened. He likes strawberries so much now that he asked staff to support him to grow more plants. David enjoys seeing the garden flowers bloom and remembers to water them regularly to keep them at their best.
David now has a badminton net in his garden which helps him keep fit in addition to an outdoor darts board and enjoys playing against members of his support staff. David is delighted with what he has achieved with the support of his team and says, "I love my new look garden."