Falkirk Kiltwalk to raise funds for Real Life Options
Thursday 27 October, 2022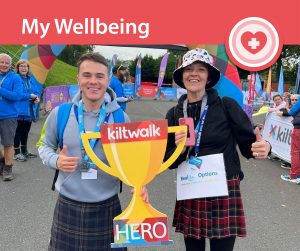 Staff from our service in Longcroft recently braved the Hunter Foundation's 24k Kiltwalk, raising £795 for Real Life Options. Inspired by the people we support, the team walked from Edinburgh to Musselburgh and back.
The money raised from the Kiltwalk is going towards an outhouse, and the development of an outdoor garden area at our service in Longcroft. The outdoor space will promote the health and wellbeing of the people we support by giving people the opportunity to engage with nature in ways which is beneficial. From gardening, to enjoying the sunshine in a meaningful space, there is something for everyone.
Although the walk was a tough challenge, the team pushed through, and were cheered on by roadside volunteers who motivated them to keep going. The team were joined by Nick, our Volunteer and Social Value Manager Scotland who, despite the challenging walk said, "This has been an amazing experience".