Fantastic festive competition results
Friday 23 December, 2016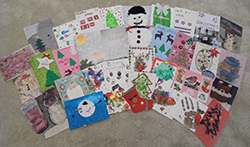 The Real Life Options Head Office was inundated with tons of fantastic festive entries to the annual Christmas Card and Decoration competition. Everyone was extremely impressed with the exceptionally high standard of artistic talent on display, with the people we support trying their hand at creating everything from traditional cards and decorations to stockings and snow globes.
Huge congratulations to Richard from Polbeth who went on to win the prestigious prize of 'Best Christmas Card' of 2016 with his cheery Rudolph card. Second place went to Janet from Hartlepool for her tactile snowman card and Irene from Hartlepool claimed third place for her artistic pop up reindeer card.
However congratulations also need to be said to the great people who designed such wonderful cards they ended up on Santa's Super Shortlist! Well done to everyone who took part in the competition and we hope you had a fabulous Christmas.