Fife Housing Group's Giving Something Back Grant
Monday 28 November, 2022
We are delighted to have recently received £1900 from Fife Housing Group, as part of this year's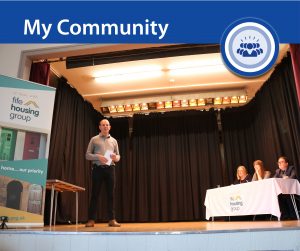 Giving Something Back Grant. We enjoyed attending Fife Housing Groups 'Pitches, prizes and pizza' event to celebrate.
The grant will go towards various projects which will make a difference to the lives of the amazing people we support in Fife. Some of the funds have been used to make adjustments to our kitchen which will give us the resources to hold lunch clubs, as well as cooking and baking sessions for the people we support. A portion of the funds will also be used to purchase items such as cooking and baking supplies, arts and crafts, and other equipment which will be used to hold group activities for the people we support. These sessions will include exercise classes, beauty sessions and music classes.
The aim of these sessions is to provide some of the people we support the opportunity to learn new skills, as well as build relationships within the community. It is important that people enjoy positive friendships and relationships to enable all people we support to have a sense of belonging and feel valued.