Flying High To Stay Connected
Thursday 30 July, 2020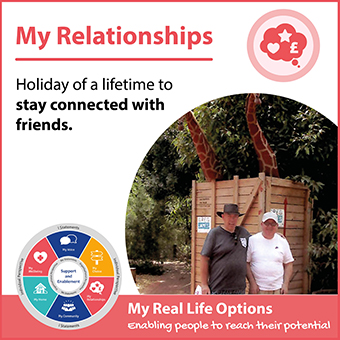 Positive relationships are so important for our mental health and wellbeing and when Peter from West Lothian was invited to visit his friend Steven in Australia, he jumped at the chance. Steven, a former Support Worker at Real Life Options, emigrated to Australia several years ago but always made time to visit Peter during his return trips to Scotland.
Peter and Steven had formed a close bond over the years and so when Steven and his wife invited Peter to join them in Australia for a holiday of a lifetime, he was absolutely thrilled. With plenty of planning and preparation throughout the previous year and with the fantastic support of staff team member Heather Paterson, Peter's trip finally went ahead early 2020.
During his holiday, Peter had an amazing time, visiting a number of Perth's many attractions including the City Zoo and Pinaroo Park to see the kangaroos. The friends enjoyed barbeques, went on boat trips, visited a chocolate factory and even managed to fit in a weekend vacation at beautiful Dunsborough Beach. Service Manager Fay Rodger is full of praise for Heather who did a brilliant job of supporting Peter to plan his visit, enjoy his time in Australia and to stay safe during his travels and return journey to Scotland.
Peter, who is sure to remember his antipodean adventure for many years to come says: "It was good to see Steven and I really enjoyed my holiday."