Flying The Flag For Volunteering And Advocacy
Friday 25 September, 2020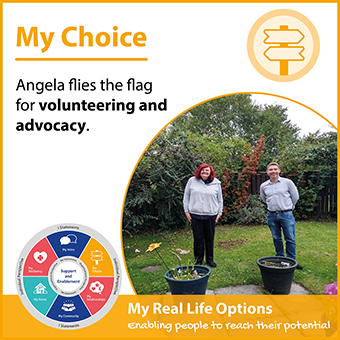 On a recent visit to the North East to meet with Real Life Options' Service Managers, staff and the people we support, England's Social Values and Volunteer Manager Andrew Walker had the privilege of spending a few hours with Angela – England's first 'Real Life Volunteer'. Prior to the Covid-19 pandemic, Angela, who is based in Stockton-On-Tees, regularly volunteered at one of our supported living services helping with meals, making drinks and brightening up people's day.
Angela who receives a little support from Real Life Options herself, has gained many skills from her volunteering role and spending time alongside our experienced support staff. During her very limited spare time, Angela enjoys playing bingo and spending time with her fiancé. She enjoys independent living and the freedom that it brings to her life. Angela is a big fan of Slimming World and is very proud that she has exceeded her goal and lost more than 3 stone in weight.
When not volunteering for Real Life Options, Angela could be found volunteering two days a week at Tees Valley NHS Trust and working as an advocate for other care homes in the community. Volunteering has been a big part of Angela's life for the last ten years. She is passionate about helping others and being an advocate for people with disabilities so that their voices are heard.
To put Angela's volunteering hours into perspective, the time she donates during a twelve month period is equivalent to walking from Land's End to John O'Groats…and back again, watching 284 football matches or watching every single Star Wars movie back to back nineteen times over.
Thank you Angela…you are a star!
If you think there is someone in your service, your family or group of friends that would like to apply to be a volunteer for Real Life Options, then please encourage them to contact:
England:  andrew.walker@reallifeoptions.org or call 07778 899528
Scotland:  nick.mclaughlin@reallifeoptions.org or call 07789 938134