Fun Times at the Oxford Forum
Wednesday 1 March, 2017
A great time was had by all at the recent Service User Forum in Oxford. Whereas forums usually last a few hours, in Oxford they decided to go all out and make it a whole day affair from 10am to 6pm! The focus of the day was a lively and informative meeting about fire safety (that was also attended by Samia Shibli from the Oxfordshire City Council commissioning team). Everyone contributed to the discussion and learnt a lot about how they could make their homes safer.
However, there was also time for lots of fun too and the day was jam packed with fantastic competitions and delicious food. Prior to the safety talk, the day kicked off at the Kassam Pool Hall to play a pool tournament, which was won by Daniel.
As it was Halloween everyone got into the spooky spirit and there was a costume contest with the people we support donning some suitably ghoulish outfits. Peter opted for the classic Scream mask and David channelled the devil, but the contest was won by Carl for his freaky chain-saw wielding Leatherface costume from the iconic film Texas Chainsaw Massacre. Fresh on the heels of the morning pool tournament, the guys decided to have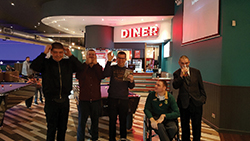 another pool tournament and games at the house, and the second pool champion of the day was Michael. Finally the day was capped off with everyone going to see some impressive fireworks.
"The forum went really well," commented David Lazar, Team Coordinator. "People attended from all our services in Oxford and everyone received a prize for showing their dedication to come to the day. Everyone really enjoyed themselves and had a great time and we are already looking forward to our next forum."