Garden Makeover A Hugh Success
Tuesday 14 July, 2020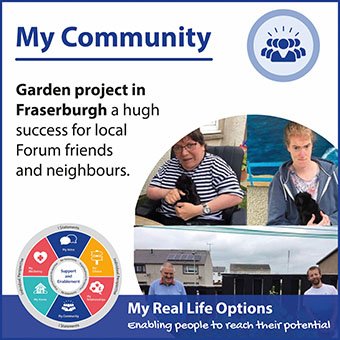 Friends in Fraserburgh are delighted that an idea arising from their Loons and Quines (a local term for boys and girls) Forum two years ago is now a reality. The neighbours, who live in their own homes, lacked a suitable space for their Forum meetings and whilst there was a shared garden, the area wasn't easily accessible for people with mobility challenges.  The Forum members, with the assistance of their support staff decided to raise funds to turn their garden into a welcoming space where they could spend time with friends and hold their meetings.
After a flurry of fundraising activities involving sponsored walks, bric-a-brac, crafts and bake sales, a dance and a family day event, the friends and their support team raised almost £6,000. Sadly the cost of the garden refurbishment project had increased significantly and the friends were still a long way off their target. However, thanks to local Councillor Doreen Mair, staff learnt about the local Community Payback Scheme, and before long, a volunteer crew was organised to prepare the site and start the garden project.
The Loons and Quines Forum members are over the moon with the results. Resident guinea pigs Daisy and Leela are enjoying their dedicated outdoor run and the home grown fresh greens. The garden is now a colourful and tranquil space, with seating areas, bird boxes, bug hotels and planters. Newly planted cherry and apple trees attract the birds and provide much needed shade in the warmer months. Moreover, they now have an amazing community space where they can hold their regular Forum meetings.
"The garden project has been a great experience for everyone involved as each person has had a say and played their own part in creating an inviting and much loved space.  A big thank you to our staff and our community neighbours and volunteers for their support too." Debbie O'Neill, Service Manager.