Get your FREE flu jab
Tuesday 19 November, 2019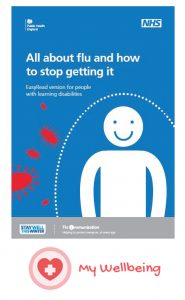 With this latest snap of freezing weather, there is no denying that Winter is well and truly here. And unfortunately that means that flu season is also upon us.
Flu can be a serious illness and for many people it may be fatal. On average 8,000 people die from the flu every year and frontline health and social care workers are more at risk of being exposed to, and therefore of spreading the flu virus.
That's why the NHS offers FREE flu jabs to all frontline health and social care workers. All you need to do is ask your local GP/Pharmacy to organise a flu jab and provide evidence of your employment with the Real Life Options Group (e.g. your employer ID or payslip).
It's important to get your free flu jab as soon as possible as it's the best way to protect yourself, your family and the people we support, many of whom may be at increased risk from the complications of flu. Being healthy won't stop you getting flu or passing it on. The flu virus can infect anybody, and even someone with no visible symptoms is still at risk of passing the virus on.
Flu virus strains change, so it's important to have a flu jab every year ahead of the flu season. And remember, having a flu jab can't give you the flu.
The NHS also provides free flu jabs to people with learning disabilities. Getting a flu jab can seem like a daunting experience for anyone who is not fond of needles, but it is often even more stressful for people with learning disabilities who aren't sure what to expect.
That's why the NHS have created this useful EasyRead Flu Leaflet which explains exactly what happens when you go to get a flu jab and why it's important to get one to help stay fit and healthy.
Click here to download the EasyRead Flu Brochure.
And you can find out more about flu on the NHS website here:  www.tinyurl.com/NHSfluinfo