Gifts Galore from TV Weatherman
Thursday 19 November, 2020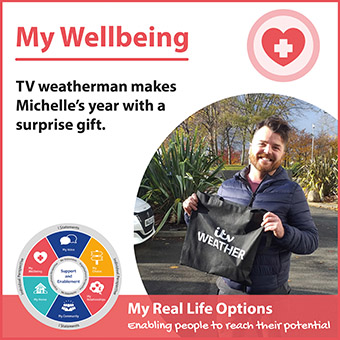 Michelle from Newcastle had a fantastic surprise recently when an ITV weatherman brought her a gift as a reward for being such a huge fan.
Michelle loves watching the news but more so the weather section as Ross Hutchinson is her favourite presenter. Michelle loves sharing Ross's weather report with her staff team and as far as she is concerned, it is never Ross' fault when he doesn't get it quite right.
Recently, Michelle has made some massive changes in her life which involves the decision to eat a healthier diet and attempt to give up smoking too. With some of the money she expects to save, Michelle would like to sponsor the Dog's Trust to help abandoned dogs.
Because Michelle is making great progress with her healthier living regime, her staff team wanted to arrange something special to say well done. Service Manager Katie Murphy sent a message to weatherman Ross via social media explaining how Michelle is one of his biggest admirers and would he be able to send a signed photograph of himself. Ross kindly replied, explaining that whilst he didn't have a photo, he would organise a goody bag instead, dropping off the gift in person and posing for a picture.
Michelle was disappointed not to meet her favourite weatherman on the day but is delighted that he went out of his way to deliver her gift to the service office and will frame the prized photograph as soon as she is able.
"We are immensely grateful to Ross for taking the time to think of Michelle in his busy schedule. His kindness means such a lot and has made this a year to remember for all the right reasons." Katie Murphy, Service Manager.