Going Quackers for Children in Need
Friday 29 November, 2019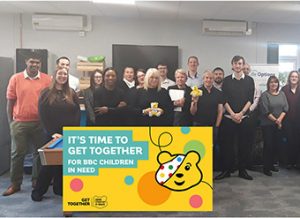 A big shout out to everyone who got involved for Children in Need earlier this month.
Our Knottingley based business support colleagues held a fundraising lunch at their office, 'buying' ducks and bears throughout the week prior to the event, culminating with a draw on the day.
Congratulations to Matthew's 'Ducktor Who' for winning the Duck Race and Frank's 'Bear in Space' for winning the Bear Hunt. Laura's tie-breaker answer in the Duck and Bear Fun Quiz earned her a Quiz Master accolade for 2019.
Thank you to everyone who provided treats and nibbles to share on the day and for raising a fantastic £124 for Children in Need.