Having a Ball of a Time
Tuesday 7 January, 2020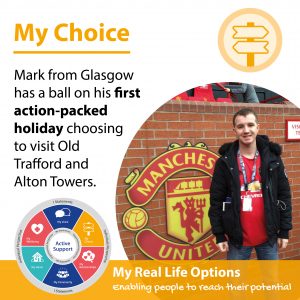 Mark from Glasgow, enjoyed a unique holiday experience when he got the opportunity to visit the Manchester United Old Trafford Stadium and Alton Towers. The action-packed trip marked the first time Mark has gone away on holiday while he has been supported by Real Life Options and he adored every minute of it.
Paul Sloss, Mark's keyworker, organised the whole trip with Mark's full involvement and he travelled down from Scotland on the train with Mark and another Support Worker, Kevin Halligan, to enjoy the entertaining city break.
Unsurprisingly for a passionate football fan, Mark's highlight was visiting Old Trafford, one of the world's most iconic sports venues. The behind-the-scenes tour provided access to many areas of the stadium that are normally restricted to players, including the home dressing room, the players' tunnel and of course, the football pitch itself. The award-winning museum also showcased an impressive collection of club memorabilia and Mark loved having his photo taken with all the trophies and next to the pitch. Fittingly, Paul said, "Mark had a ball!"
Next on the fun-packed trip was a visit to Alton Towers, the UK's largest theme park and thrill seeker Mark was delighted to go on loads of the exhilarating rides. He even managed to persuade Kevin, who had never been on a rollercoaster in his life, to go on The Smiler which is the largest ride in the park and is the world's first 14 loop rollercoaster. Mark thoroughly enjoyed the experience…the same could not be said for Kevin!
"Mark really loved the trip," said Fiona Campbell, Team Coordinator. "His next goal is to organise a holiday abroad which is something he and his team are working towards for next year."