Last Chance to Nominate Your Real Hero…
Wednesday 30 September, 2020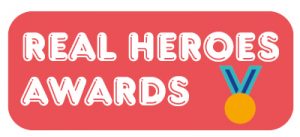 Today marks the last chance to submit your nominations for the annual Real Hero Awards.
Please make sure you send any nomination forms directly to Sam Goodwin (samantha.goodwin@reallifeoptions.org) by the end of Wednesday 30th September. Or you can simply email the information if easier – just remember to include details about why your nominee is a Real Hero and what difference they have made.
Also, did you know that every person who submits a Real Hero nomination automatically gets entered into a prize draw for the chance to win a £10 Love2Shop voucher themselves? It's our way of saying thank you for taking the time to contribute to the Real Heroes Awards.
There are numerous different categories that you can submit nominations for – including those for both staff and the people we support. But don't worry if you can't decide what category to assign to your nomination – there is no requirement to fill this bit in!
Check out the full list below…
Annual Real Hero Award Categories
STAFF:
Support Worker of the Year
Team Coordinator of the Year
Service Manager of the Year
Team of the Year
Business Support Hero of the Year
Living the Values Hero of the Year
PEOPLE WE SUPPORT:
Special Achievement Hero of the Year
My Voice Hero of the Year
My Choice Hero of the Year
My Community Hero of the Year
My Wellbeing Hero of the Year
Deadline Date for Nominations: 30th September 2020
Download the nomination form here: Annual Real Hero Nomination Form – Real Life Options
PRIZE DETAILS: £50 individual prize voucher / £100 team prize voucher, a Real Hero trophy, flowers and chocolates. Individual prize vouchers will be issued as Love2Shop vouchers. As the UK's leading multi-retailer gift voucher, these can be redeemed in over 20,000 stores, restaurants and attractions, with over 150 top brands. Team vouchers will be issued as specified by the winner so it can be put towards something that can be shared between team members. Every nominee will receive a Real Hero Nomination certificate.
Previous Real Hero nominations that have been received this year and fit the categories outlined above will also be considered.