Ilkeston Supported Living Scheme Launch Event
Thursday 6 April, 2023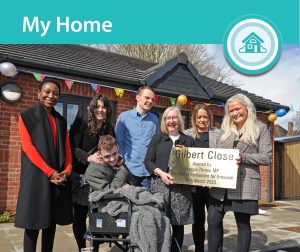 Residents at a new build supported living development in Ilkeston were welcomed into the new scheme by Maggie Throup MP and its developers in a special launch event on Thursday 30th March.
The development comprises twelve apartments and eight bungalows at the site in Ilkeston and enables local people with physical and learning disabilities to live as independently as possible with the support of onsite care and technology.
The new development has also created a number of jobs in Ilkeston and the care provider, Real Life Options held a recruitment open day on Tuesday 4th April.
The scheme at Gilbert Close was developed by specialised supported living developer HBV Group in partnership with care provider Real Life Options, registered provider of social housing Inclusion Housing CIC, and Derbyshire County Council. Construction was completed by Triton Construction Limited.
HBV Group oversaw the design of the scheme with Real Life Options and Inclusion Housing which is designed to help combat the cost of living for the residents by delivering dwellings that are extremely economical to run, embracing new technology.
Maggie Throup MP, said:
"I'm pleased to launch this new development which will be a positive place for local people with disabilities to live and thrive. I strongly support developments like this by HBV Group which help people get the independence they need, as far as possible, to live their life happily and with the dignity everyone deserves.
"Developments like this improve the choice available for families and officers who refer people into them based on their requirements. This is a fantastic addition to the local community here in in Ilkeston and I'm delighted to see so many happy faces."
Councillor Chris Corbett, Deputy Mayor of Erewash, said:
"We're very proud of this development and it just goes to show the benefits of working collaboratively with people who have a strong interest in building better communities. The ability to live more independently but with onsite support where needed is something we know that people with disabilities and their families strive for."
David Sargent, Chief Executive of Real Life Options, said:
"As well as providing a fantastic place to live this new development also creates job opportunities as we expand our team here in Ilkeston. A variety of care roles are now available and our recruitment open day enables local people to drop in and have an interview.
"We all recognise the need for specialised supported living accommodation for the most vulnerable people in our society and Gilbert Close is a brilliant example of this kind of housing."
Jonathan Wrigley, CEO of HBV Group, said:
"We are pleased to launch our second new development in Derbyshire in a month. This has been a positive collaboration between everyone who has helped to deliver this scheme in Ilkeston. Not only is a great place to live, but the scheme brings new jobs into the area which we're particularly pleased to help deliver."
HBV Group works in partnership with local adult social care commissioners, care providers and registered providers of social housing, and it has delivered more than 60 specialised supported living developments across England and Scotland.
Planning consultants for the development were Stantec. Architectural services were delivered by Calderpeel, engineering by DW LLP, services design by King Associates and the assistive technology provided by ATEL.