Introducing Our Super 'Support and Enablement' Model
Wednesday 26 February, 2020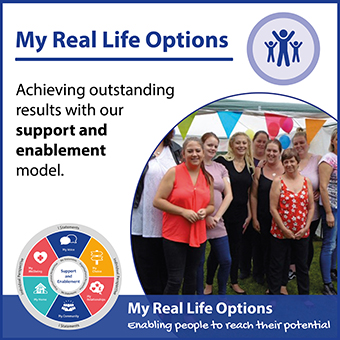 Real Life Options is pleased to reveal an ambitious two year plan for embedding Support and Enablement across its services. This fresh approach to social support and care encompasses the principles of positive behavioural support combined with in-depth staff training and bespoke technologies. My Real Life Options, our model of support, concentrates on the key essentials that contribute towards people's happiness and wellbeing. The aim of our Support and Enablement strategy is to drive excellent support that is focused on enabling individuals to achieve their potential whilst actively engaged in activities that are a part of everyday life.
The decision to invest in this innovative programme is due in the main part to a successful pilot that has seen our Darlington Road service recently achieve 'Good' across four domains and an 'Outstanding' for responsiveness. The trial, led by inspirational Manager Lisa Livingstone, has seen the people we support and their staff team flourish as a result of the transition from a caring to an enabling environment with one team member winning the Support Worker (not for profits) Award category at the NLDA Awards 2019. Follow the link to read the full CQC report.
"I'm delighted that our Support and Enablement pilot has been so successful and congratulate Lisa and her team on a fantastic achievement. We're confident that embedding this approach organisation-wide will make a real difference to the people we support." David Sargent, CEO.