Inviting Entries for our Christmas Competition
Friday 18 October, 2019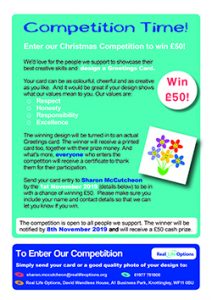 We'd love for the people we support to showcase their best creative skills and design a Greetings Card. Your card can be as colourful, cheerful and creative as you like.  And it would be great if your design shows what our values of Respect, Honesty, Responsibility and Excellence mean to you.
The winning design will be turned in to an actual Greetings card.  The winner will receive a printed card too, together with £50 prize.  And what's more, everyone who enters the competition will receive a certificate to thank them for their participation.
Please send your card entry to Sharon McCutcheon by post to the our offices in Knottingley or you can email a good quality photo to sharon.mccutcheon@reallifeoptions.org
Closing Date for the Competition is 1st November 2019.