It's a Green Light for David
Friday 25 October, 2019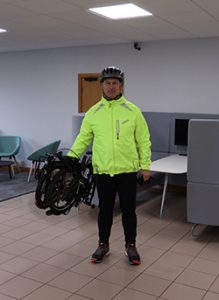 Chief Executive Officer, David Sargent is certainly leading the way when it comes to reducing impact on the natural environment. David, who regularly commutes by train, finds a folding bike the perfect solution as it is compact and easy to assemble.  It is particularly useful for getting around London as David discovered recently when attending the Association of Chief Executives of Voluntary Organisations (ACEVO) meeting and the Salt Conference 2019.
"Cycling is one of my preferred modes of transport.  Not only is it a fantastic way to keep fit, it's great for reducing my own carbon footprint."
Real Life Options is in the process of being audited for ISO 14001 Environmental re-accreditation and after recent inspections across England and Scotland, assessors are providing some positive feedback and helpful insights for ongoing improvements.  In the meantime, staff are actively supported to create their own local Green Team and look at ways to reduce energy consumption and waste, improve recycling and minimise impact on the environment.  Colleagues are sharing great ideas, such as introducing a cycle to work scheme, through a dedicated Green Group on Real Talk, the organisation's internal app-based channel.
"It's important that our accreditation has meaning and is not just a tick box exercise. I'm encouraged by how many team members are taking environmental issues seriously and sharing suggestions for small changes that could make a big difference."