Jake's Rewarding Volunteering Job
Friday 24 February, 2023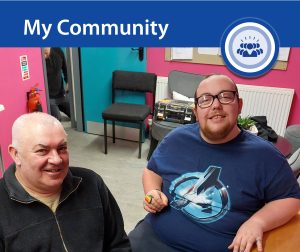 We were delighted to recently speak to Jake from Scotland about his rewarding volunteering job, working in a local charity shop for an impressive three and a half years, and counting!
At Real Life Options, we believe everyone should feel valued and have a sense of belonging within their community, so, when Jake and his support worker, Evelyn noticed the shop were on the lookout for volunteers, it was an opportunity that couldn't be missed. With the support and encouragement of Real Life Options staff, Jake secured the role. Fast forward to today, and Jake is thriving in his job.
From putting recycled toys out on display and pricing items, to completing health and safety forms, Jake's role offers a variety of tasks, equipping him with important knowledge and skills. One of Jake's main job duties is putting the recycled toys out on display, with Jake saying his "favourite toy is Buzz Lightyear". Jake is always happy to help customers choose a toy to buy, demonstrating how the toys work, and says he is a big fan of using the pricing gun to price items.
Evelyn Vause, who works with Jake at our Falkirk service says, "Jake has taken a lot in, his self-confidence has grown massively, and his family have seen a huge difference." As well as learning new skills, and contributing to the local community, Jake has made lots of friends at work, both with colleagues, and customers, and enjoys attending his works annual Christmas dinner with work friends.
Jake says his role is "really good" and he enjoys talking with friends and family about his work. With the skills and confidence he has gained, Evelyn says she hopes to support "Jake to get a paid job" in the future, which will enable Jake to develop his independence even further! This is a fantastic achievement, and we are excited to be part of Jake's journey as he continues to achieve amazing things!