Key Appointments Real Life Options England
Friday 3 January, 2020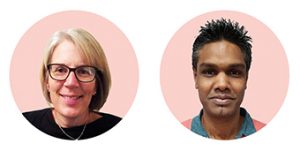 We are delighted to announce two new key appointments to oversee and strengthen service delivery across Real Life Options, working alongside Vivien Simon, Director of Operations England.
Ann Ferguson, Head of Operations England North joins us with a strong background working in local authority and third sector organisations in addition to experience as a Care Quality Commission Inspector.  Ann joins forces with Kim Kauldhar, Head of Operations England South in progressing the work being carried out to deliver great social support and care.
Nen Pillay, Regional Operations Manager for London & Oxford brings to the role extensive experience of supporting people with learning disabilities, autism, brain injuries and other complex needs.  A strong advocate of person centred active support, Nen will work with his teams to further embed this approach across his services.
"Ann and Nen have a broad range of skills and a strong track record that fits well with our organisation's direction and plans for the future. I believe that their passion and approach to providing excellent support and care will be a great asset to Real Life Options' operational delivery in England." Vivien Simon, Director of Operations England.